Shut Down Pornhub and Hold Its Executives Accountable for Aiding Trafficking
0 have signed. Let's get to 2,500,000!
---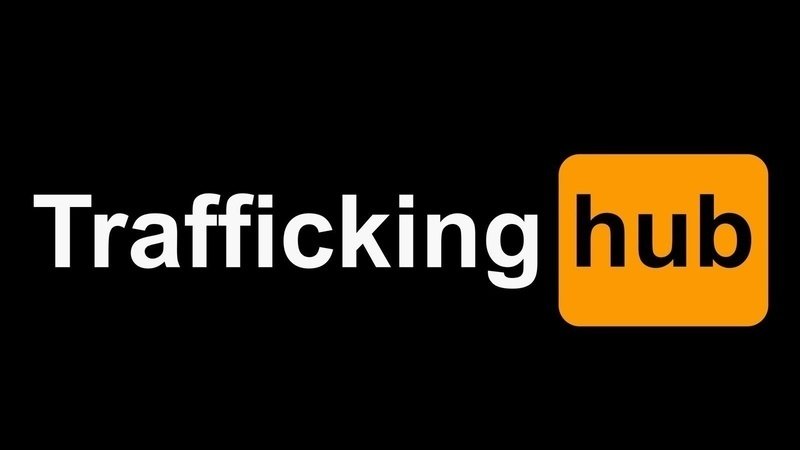 Traffickinghub is a decentralized global movement of millions of individuals and hundreds of survivors, organizations and advocates from across a broad spectrum of political, faith and non-faith, economic, and ideological backgrounds, all uniting together for the single purpose of shutting down Pornhub and holding its executives accountable for enabling, distributing and profiting from rape, child sexual abuse, sex trafficking, and criminal image-based sexual abuse.
If you have been victimized on Pornhub, any MindGeek-owned website, or other online platform and want help click here.

You can stay up to date on the progress of the Traffickinghub petition by following the #Traffickinghub hashtag or by following the Traffickinghub movement founder Laila Mickelwait on Twitter.
Petition Launched February 2020:
Time to Shut Pornhub Down
By Laila Mickelwait
In the last few months, there have been several shocking cases of sex trafficking and child rape films that were hosted on Pornhub. A 15-year-old girl who had been missing for a year was finally found after her mother was tipped off that her daughter was being featured in videos on the site — 58 such videos of her rape and sexual abuse were discovered on Pornhub.
Her trafficker, who was seen in the videos raping the child, was identified using surveillance footage of him at a 7-Eleven where he was spotted with his victim. He is now facing a felony charge.
Also in recent news was the case of 22 women who were deceived and coerced by Michael Pratt, owner of GirlsDoPorn, into performing sex acts on film that were subsequently uploaded to Pornhub. These women sued GirlsDoPorn and won a $12.7 million lawsuit against the company. According to a federal indictment, Pratt and his co-conspirators produced filmed child rape and sexual abuse content and trafficked a minor. Pratt reportedly fled the United States for New Zealand and is currently wanted on a federal warrant.
But there are other individuals who should also be wanted by law enforcement — CEO Feras Antoon and COO David Tassillo of Mindgeek, the company that owns Pornhub.
You see, Pornhub is complicit in the trafficking of these women and minors and probably thousands more like them.
Pornhub is generating millions in advertising and membership revenue with 42 billion visits and 6 million videos uploaded per year. Yet it has no system in place to verify reliably the age or consent of those featured in the pornographic content it hosts and profits from.
In fact, all that is needed to upload pornography onto Pornhub is an email address. No government-issued ID is required, not even to become "verified" with its trusty blue checkmark that makes everything seem a-OK.
I know this, because I tried it.
It took me under 10 minutes to create a user account and upload blank test content to the site, which went live instantly. I could have then gone on to become Pornhub-verified, and all I would need to do is send a photo of myself holding a paper with my username. That's it.
It is no surprise that Pornhub admitted to verifying the trafficked 15-year-old girl who was sexually abused in 58 videos on its site. The official Twitter account for Pornhub wrote in response to the breaking story that the 15-year-old girl had been a verified member. After quickly realizing it had just admitted to assisting in her being trafficked, the account deleted the tweets, but the evidence of the admission was cached and still exists.
One of the most-searched terms on Pornhub is "teen" pornography, in fact it has been a top ten search term on the site for six consecutive years. The search will result in videos that are constantly being added faster than any individual could watch them. Many feature girls who look 13 years old at best — girls with braces, pigtails, flat chests, no makeup, extremely young faces, holding teddy bears and licking lollipops, all while being aggressively penetrated. A quick search for the word "teen" turns up titles such as "Young Girl Tricked," "Innocent Brace Faced Tiny Teen F---ed," "Tiny Petite Thai Teen," "Teen Little Girl First Time," on and on ad infinitum.
Pornhub has no reliable system in place to verify that those in the videos it hosts are not trafficked children being raped on film in order to line the pockets of its executives.
What all of this means is that at this very moment, there could be hundreds, if not thousands, of videos of underage sex trafficking victims on Pornhub. We already have evidence, and it is just the tip of the iceberg.
It's time to shut down super-predator site Pornhub and hold the executives behind it accountable.
Laila Mickelwait started this petition to the U.S. Department of Justice, U.S. State Department, Prime Minister of Canada, President of the United States, Prime Minister of Luxembourg, Canadian Minister of Justice, Canadian Attorney General, U.S. Attorney General, U.S Congress, and Canadian Parliament
PETITION UPDATE
At the start of 2020, when the Traffickinghub petition and movement was launched, Pornhub was the tenth most-visited website in the world. It was also the largest and most popular porn site, with 130 million visits per day, 42 billion visits per year, and enough videos uploaded every 12 months that it would take 169 years if you watched them back-to-back. Pornhub had more site traffic than Amazon, Yahoo, and Netflix and more daily visits than the entire populations of Canada, Australia, and France combined. Researchers named it the 3rd most influential "tech" company on global society, just behind Google and Facebook. 4.6 billion daily ad impressions were helping the site earn hundreds of millions of dollars annually for its parent company MindGeek.
By the beginning of 2023, Pornhub had deleted 80% of the entire website by removing over 10 million videos. Visa, Mastercard, Discover, and PayPal had all cut ties with the site, leaving them with only cryptocurrency and wire transfers as payment options. The secret majority shareholder of MindGeek, Bernd Bergmair, was publicly exposed, and the CEO and COO of MindGeek, Feras Antoon and David Tassillo, resigned. Pornhub lost all major advertisers and business partners, including Grant Thornton, Heinz, Unilever, Comcast-Xfinity, Roku, and many others. Meta, Instagram, TikTok, and YouTube all permanently shut down Pornhub's social media accounts, causing them to lose over 14 million followers and subscribers. MindGeek is now facing eight landmark individual and class action lawsuits on behalf of hundreds of victims worldwide, totaling billions in potential damages, and was the subject of a Canadian government parliamentary committee investigation.
BUT WE ARE NOT DONE YET.
Pornhub must be shut down. It's owners and executives must be held accountable to the full extent of the law, and the victims of Pornhub worldwide must be given real justice.
Why shut it down and not merely clean it up? Because we must end impunity for corporations and executives who have knowingly enabled, profited from, and globally distributed rape for profit for over a decade, destroying the lives of countless victims. Severe abuses require severe consequences to be a deterrent to future bad actors.
In December 2020, after immense backlash, Pornhub was forced to change its upload process and began requiring the verification of uploaders' identification, but this is too little, too late. To this day, Pornhub still does not reliably verify the age and consent of all individuals featured in the free and ad-revenue- generating content on the site. This ensures that Pornhub is still a crime scene, infested with videos of illegal nonconsensual content, including sex trafficking.
To prevent these atrocities from continuing in the future, the Traffickinghub movement aims to end impunity for Pornhub/MindGeek, and to pressure governments and corporations around the world to implement policies that demand reliable, third-party, age and consent verification for every individual depicted in every video on online user-generated pornography websites.
Please join us in the movement for accountability and justice for victims by signing and sharing the petition today.
News in the Fight to Hold Pornhub Accountable:
The Fight to Hold Pornhub Accountable, The New Yorker
The Children of Pornhub, The New York Times
Time to Shut Pornhub Down, Washington Examiner
The Underage Guessing Game, The Critic
Mother takes Pornhub parent company to court over 'traumatizing' rape videos of her 12-year-old son, Business Insider
Visa and Mastercard suspend payments for ad purchases on Pornhub and MindGeek amid controversy, CNBC
Bill Ackman says Visa has the power to force Pornhub to remove child pornography, CNBC Squawk Box
Judge denies Visa's motion to be removed from child porn lawsuit, CNBC Squawk Box
Why Are Visa and Mastercard Still Doing Business with Pornhub, Newsweek
Lawsuit accuses Pornhub of operating like a criminal enterprise, CBS
In a new lawsuit, more than 30 women accuse Pornhub of profiting from videos posted without their consent, CBS News
Ontario woman initiates class action against Pornhub over video of alleged rape at age 12, CTV Montreal
Traffickinghub Founder, Laila Mickelwait's Congressional Testimony, US Financial Services Committee Hearing
Canadian Parliamentary Hearings Expose Pornhub Did Not Report Any Child Abuse to Authorities for Over a Decade in Violation of US and Canadian Mandatory Reporting Laws
Over 700 Survivors, Advocates Call On Congress For Criminal Investigation Into Pornhub's Parent Company, The Daily Caller
525 Organizations and 104 Survivors Send Joint Letter to Canadian Parliament Urging Criminal Investigation of Pornhub/MindGeek, The Globe and Mail
Pornhub owner settles with Girls Do Porn victims over videos, BBC
Inside Pornhub: Confessions of a Pornhub Moderator, The Verge
Hunt for the porn king: Pornhub's secret majority owner found in London, Tortoise
Lifting the veil of secrecy on MindGeek's online pornography empire, Globe and Mail
Pornhub removes a majority of its videos after investigation reveals child abuse, CNN
Pornhub just removed 10 million unverified videos, Cosmopolitan
Mastercard, Visa and Discover cut ties with Pornhub following allegations of child abuse, CNN
Lead complainant of class-action lawsuit says her sex abuse as a child was posted on PornHub, City News Toronto
Pornhub sued for allegedly serving nonconsensual sex videos, CNN
40 sex trafficking victims sue Pornhub and Mindgeek for 40 million dollars, Independant
Victim raped on Pornhub as a 12 yr old files 600 million dollar class action against Pornhub/Mindgeek, Toronto Star
Pornhub verified sex trafficker from Alabama who abused 16yr old victim on monetized account, Fox News
Woman who spent years scrubbing explicit video from internet urges tech firms to make it easier to remove, CBC
Naazir Jackson, 29, from Texas was arrested for sex trafficking his victims on Pornhub, Houston Chronicle
14yr old raped and videos uploaded to Pornhub, BBC
15yr old rape and sex trafficking victim found in 58 Pornhub videos, MEAWW
14yr old victim from Palo Alto, CA raped and videos uploaded to Pornhub, New York Post
Investigation found "dozens" of illegal abuse videos in "minutes"
Paypal cuts off service to Pornhub amid evidence of child rape and sexual abuse on site, London Sunday Times
Nicole Addimando sentenced to prison for killing the man who tortured her and uploaded the abuse to Pornhub
Lawsuits Filed Against Pornhub/MindGeek
Alabama lawsuit on behalf of 12-year-old boy victim and his mother
Summary Tweet
California lawsuit on behalf of underage victim Serena Flietes and 33 other victims
Summary Tweet
Montreal Canada class action for $600 million lawsuit lead by 12-year-old girl victim
Summary Tweet
Alabama class action lawsuit lead by two underage victims
Summary Tweet
California class action lawsuit lead by an underage victim
Summary Tweet
California lawsuit on behalf of 40 sex trafficking victims
Summary Tweet
Toronto Canada class action lawsuit lead by Ontarian adult sexual abuse victim
South Carolina lawsuit on behalf of 9 women secretly recorded